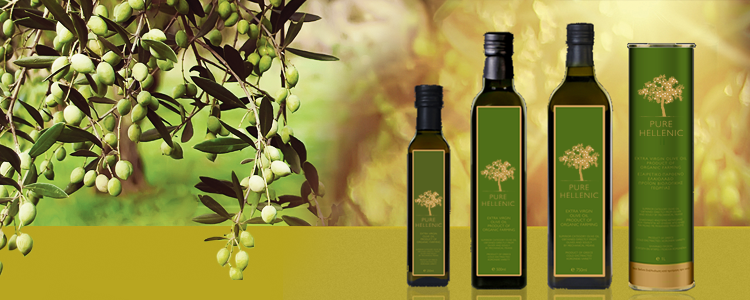 Gifted from soil and nature of the land of Greece
Organic Pure Hellenic Extra Olive Oil epitomizes our respect for the environment. The natural circle of the olive trees is not disturbed and our intervention is as little as possible with no extra pressure put on the trees. We deliberate on the cultivation of the trees, but also on how the fruit is picked and how the olives are pressed and all the way to the final packaging. This, above all is a product close to our hearts. Full of its natural gifts in flavor and aromas.
Available in packs of 25ml, 500ml and 750ml, in recyclable glass bottles, ecological friendly, recyclable, and 1lt can, Pure Hellenic Organic Extra Olive Oil is one of the rarest tasty gifts for the people you respect and love. Values that are well known for us, as they are bot PURE and HELLENIC.
And now, PURE HELLENIC FOOD GIFTBOX, for an integrated tasty experience. Including 3 bottles 250ml of PURE HELLENIC Extra Virgin, PDO Kalamata Olive, it is a perfect choice for a pleasant surprise or a substantial gift for your friends or relatives.
Pure Hellenic Organic Packaging
Recyclable glass bottles of 25ml, 500ml, 750ml and 1lt can. Click images to enlarge.